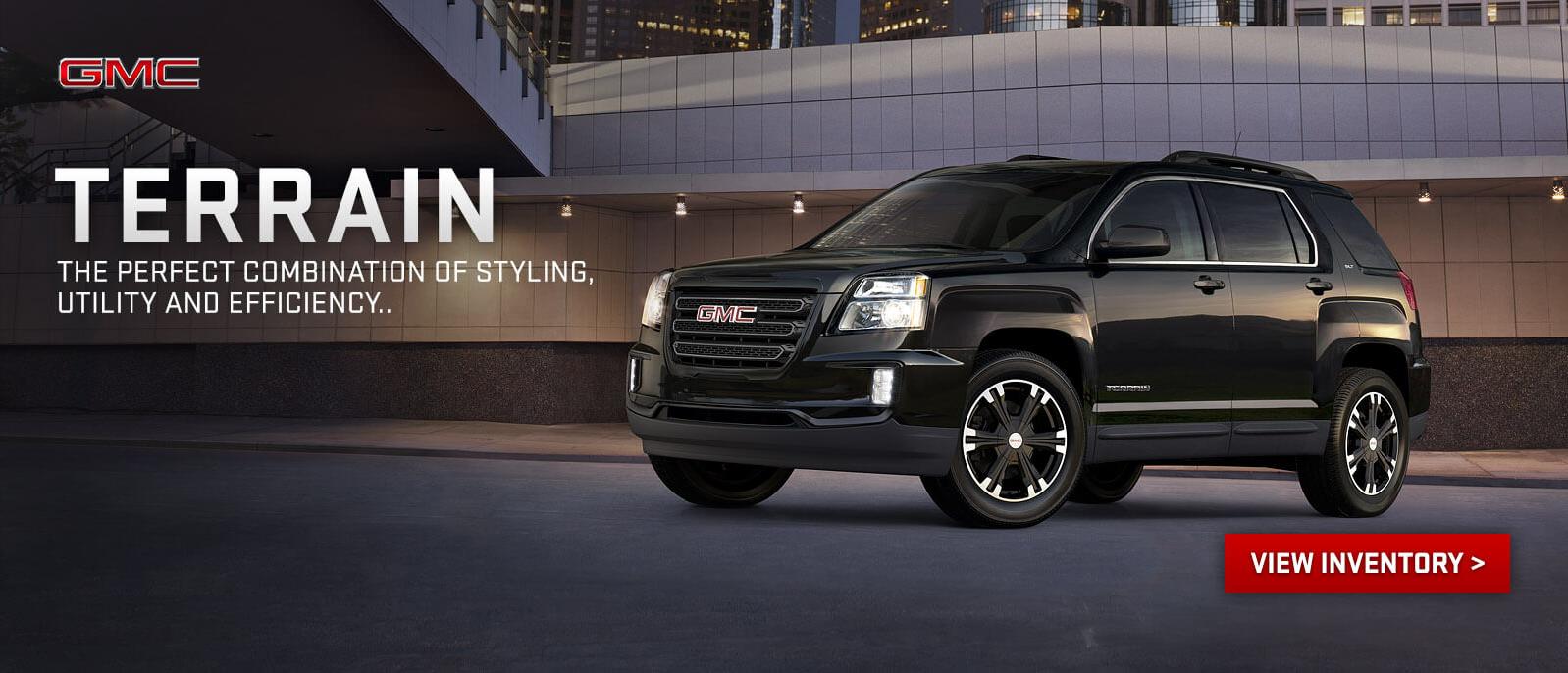 GMC TERRAIN
GMC Terrain
Are you looking for a compact crossover SUV with a spacious backseat? Then you should consider the new GMC Terrain. It combines good fuel economy, practical size, and rugged good looks. Unlike its competitors, it offers a wide range of trims, including a powerful V6 engine option, to get your work done every day. Also, its upscale interior, combined with comfortable seats are among the best in its class. There is nothing like a boring ride inside the GMC Terrain, thanks to an intuitive infotainment system, which keeps you entertained and informed at the same time. If a quiet ride and a comfortable cabin are your main priorities, then you will struggle to find anything that compares with this crossover SUV.
GMC Dealership Serving Wichita Kansas and Hutchinson Ks area
GMC Terrain Key Benefits
- Great fuel economy
- A smooth ride and nimble handling
- Impressive capability and premium luxury
- Class-leading performance
- Powerful V6 engine option
- Comfortable seats and upscale interior
GMC Terrain Interior and Features
The GMC Terrain stands out in its class, due to its upscale interior. Whether you are driving in the city or on the highway, the cabin is always quiet. You can enjoy your music or hold a conversation without the interference of external noise. The materials are of high quality while the seats are spacious and comfortable. Reclining and sliding rear seats provide additional comfort to backseat passengers.
It comes with a seating capacity of five, making it a reliable family carrier. Cloth upholstery comes as a standard. The rear seats have enough headroom and legroom, even for taller occupants. The sliding and reclining rear seats allow backseat occupants to adjust based on their comfort levels. While it offers comfortable seating, there are various upgrades available. For example, you can upgrade to leather upholstery, in place of the standard cloth upholstery. Power-adjustable front seats are also available, making it easy to obtain a comfortable driving position. Cold mornings have nothing on you, thanks to the available heated front seats.
The Terrain comes with numerous standard and optional interior features, to enhance your ride experience. Standard interior features include a USB port, Bluetooth connectivity, a rearview camera, a 7-inch touchscreen and a six-speaker audio system. Some of the available features include automatic climate control, a power sunroof, an 8-speaker Pioneer audio system, as well as a voice-activated intelliLink infotainment system, featuring navigation, Bluetooth audio streaming as well as a 4G Wi-Fi hotspot.
Drivers will also appreciate the carefully organized dashboard, with easy-to-reach buttons. The audio system comes with a touchscreen as a standard. The layout of the IntelliLink infotainment system is similar to a smartphone, making it intuitive for most users. The infotainment system also responds to voice commands, meaning you can control various applications while keeping your eyes on the road.
GMC Terrain Performance and Handling
Under the hood, the Terrain features a base 2.4-liter, four-cylinder engine, with an output of 182 hp. The base engine has sufficient power for the daily commute. As for the fuel economy, this one has a return of 31 mpg on the highway and 21 mpg in the city, which are great ratings for its class.
If you are looking for more power, then you should consider the 3.6-liter V6 engine, which has an output of 301 hp. It delivers great acceleration, and it has enough power for merging and passing on the highways. Both engines are paired with a six-speed automatic transmission, which delivers smooth shifts.
Its ride is exceptionally smooth for a vehicle of that size. You will hardly notice road imperfections, thanks to its ability to even out bumps. Ride quality is also excellent, while its steering is precise and responsive.
GMC Terrain Safety and Reliability
GMC has worked tirelessly to ensure the Terrain is one of the safest vehicles on the road. It receives high safety and reliability scores. Apart from the standard rearview camera, it comes with a long list of available safety features, which include lane departure warning, blindspot monitoring, rear park assist, rear cross traffic alert and forward collision warning.
Verdict
The GMC Terrain is all about comfort, performance, and reliability. Its interior is spacious and comfortable. It also comes with a wide range of optional safety features, to give you peace of mind behind the wheel. It is also versatile, with enough power to achieve various tasks. Despite its size, handling and driving will never present issues. For a better experience of this amazing beast, visit our showrooms today for a test ride.
GMC Dealership Serving Wichita Kansas and Hutchinson Ks area
See Other GMC Vehicles:
GMC Acadia GMC Acadia Limited GMC Canyon GMC Sierra 1500 GMC Sierra 2500HD GMC Terrain GMC Yukon