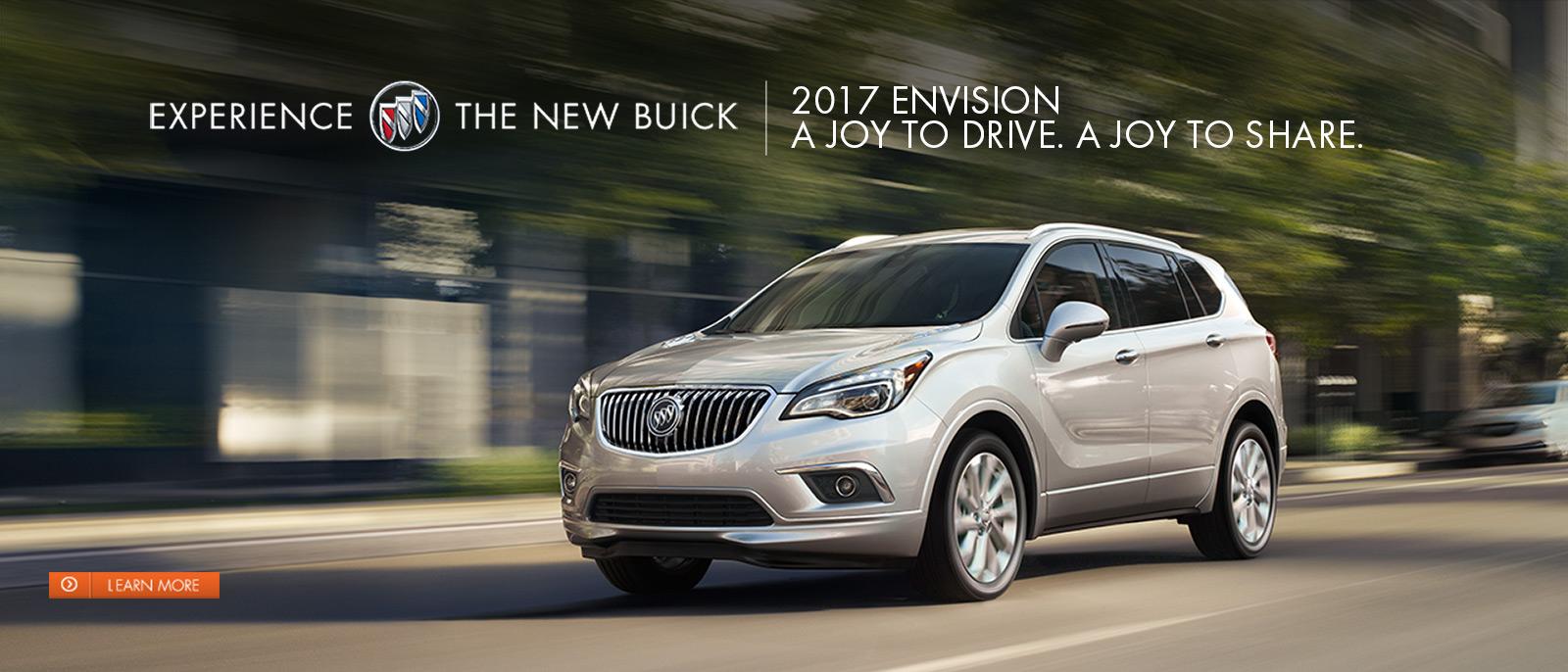 HUTCHINSON WICHITA BUICK ENVISION
Hutchinson Wichita Buick Envision
If you are looking for a luxury car that is filled with features and offers value for money, then the new Buick Envision is just what you need. With an attractive base price, this remarkable SUV offers better value for money than most vehicles in its class. You might be wondering whether you will have to make any sacrifices when you buy this vehicle. The good news is that with the new Buick Envision, you don't have to make any compromises. It offers what many buyers are looking for - lots of tech features, a comfortable ride, plenty of storage space, as well as outstanding safety and reliability scores.
Conklin Buick Dealership Serving Wichita Kansas and Hutchinson Ks area
Buick Envision Key Benefits
- Roomy and comfortable seats
- Excellent safety ratings
- Easier loading of cargo
- You get value for money
- Quiet, refined and luxurious cabin
- Easy to drive and maneuver
Buick Envision Interior and Features
A refined cabin featuring high-end technology and premium materials is what awaits you inside the Buick Envision. You can stay warm and comfortable thanks to the heated seats. On the other hand, the tri-zone automatic climate control keeps things in check inside the vehicle. You will also benefit from advanced technological features such as 4G Wi-Fi hotspot, which keeps everyone inside the vehicle connected.
Its seats are one of its most impressive features. It comes with front seats that are supportive while rear seats are spacious, with enough headroom and legroom to accommodate even taller occupants. Its cargo space is decent, with a low liftover height which makes it easy to load objects. Standard features include heated and power-adjustable front seats, cloth upholstery, ventilated front seats, a heated steering wheel. The rear seats receive praise from different quarters due to their spacious accommodations. Unlike most crossover SUVs, the Buick Envision comes with a flat rear floor. Therefore, middle-seat passengers will not struggle with legroom and foot placement. Also, the rear seats recline and slide, which makes it easy for passengers to obtain a comfortable seating position.
As noted earlier, the Buick Envision has one of the most impressive lists of standard features in its class. They include a six-speaker audio system, dual-zone automatic climate control, a push-button start, satellite radio, a rearview camera and a Teen Driver system. There is never a dull moment inside the Buick Envision thanks to the IntelliLink infotainment system, featuring two USB ports, Android Auto, Apple CarPlay, and two USB ports. OnStar 4G Wi-Fi hotspot also comes as a standard. Available features include a 7-speaker Bose audio system, tri-zone automatic climate control, a moonroof, head-up display as well as an upgraded infotainment system.
If you are looking for easy to use features, then you will love the Buick Envision. The touch-screen display responds easily while the knobs and buttons are conveniently located. You get 26.9 cubic feet of cargo space at the main hold, which increases to 57.3 cubic feet when you fold the rear seats.
Buick Envision Performance and Handling
The new Buick Envision comes with two available engines. There is the standard 2.5-liter, four-cylinder engine, with an output of 197 hp. For more performance and power, then you should upgrade to the 2.0-liter, four-cylinder turbocharged engine, with an output of 252 hp. This one produces sufficient power at both low and high speeds. Accelerating on the highway is prompt, and there is enough power to pass slow-moving cars. It stands out in its class due to its responsive and cushioned ride, even on rough surfaces. Handling is confident and effortless.
Buick Envision Safety and Reliability
Keeping your friends and family safe on the road is not a challenge, as long as you own the Buick Envision. It is packed with lots of protective and driver-assist features, to let you relax while driving. Standard safety features include a Teen Driver system, rear parking sensors, and a rearview camera. When you step up to the higher trims, you will have access to rear cross-traffic alert, blind-spot monitoring, lane keep assist, forward collision warning, front parking sensors, a 360-degree camera, automatic emergency braking, and adaptive cruise control.
Verdict
The new Buick Envision offers an upscale, smaller crossover SUV, with a refined and calm driving manner, and a premium interior at an affordable starting price. Despite being built as a compact crossover SUV, you are getting an elegant and sophisticated vehicle. Its pliant suspension delivers a smooth ride over uneven pavements while soaking up bumps with remarkable ease. Its seats are spacious and comfortable. Apart from a cozy demeanor, it also earns high scores when it comes to safety and reliability. When you throw in its impressive fuel economy, you will be driving home with a winner.
Conklin Buick Dealership Serving Wichita Kansas and Hutchinson Ks area
View other Buick Vehicles:
Buick Encore Buick Enclave Buick Cascada Buick Envision Buick LaCrosse Buick Regal Buick Verano